alphamill
AIMEX-made Special Disks Exclusive for Nanodispersion !
Contractile flow and circulatory flow control beads movement, thus achieving highly efficient milling /nano-dispersion.
Key Benefits
・Highly Efficient
AIMEX-made disks fit for nano-dispersion with centrifuge pumping function generate contractile flow and circulatory flow, controlling movement of beads effectively.
・Nano Dispersion
Applicable to a variety of conditions from dispersion to grinding.
・High Flow Rate
Flowing area made as open as ever prevents obstructions of the slurry, contributing to sharp distribution of the particles processed through high flow rate.
・Reduction of Contamination/No Wear
Flat and round disks help to reduce amount of wear/contamination and enhance their durability as well as keep its perfomance much longer.
・Low Runnig Cost
Both life-long parts and performative operation with low filling rate of beads can reduce its running cost
・Micron Beads
Φ0.015 mm~Φ0.5 mm are usable.
・Lineup
Type
AM-03L
AM-1L
AM-3L
AM-10L
Effective Volume
0.23L
0.7L
2.2L
9.7L
Material
ZrO2、SiN、Urethane 、SUS、glass (only for chamber),etc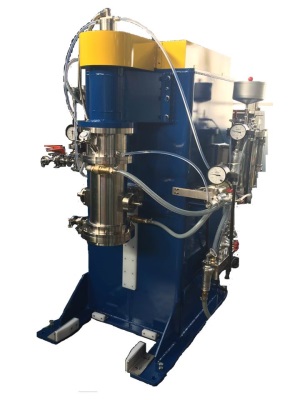 AM-10L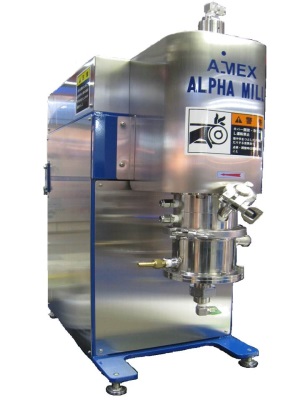 AM-03L
Drives that function AM effectively : Circulatory Flow and Contractile Flow
Circulatory FLow
Disks of our unique structure creates circulatory flow and controls flow of media.
Circulating media efficiently,energetic efficiency improved. Active movement of the media prevents beads from stagnate and concentrate quite locally.Usage of micron-meter beads enables nanodispersion.
Contractile Flow
Flow area made open and narrow ensures velocity difference between media (shear stress) .
This allows process effificiency to improve by preventing beads moving paralelly(50% up from conventional type).Larger beads are also usable for grinding.
Champion Data Nanodispersion Performance Ever Achieved